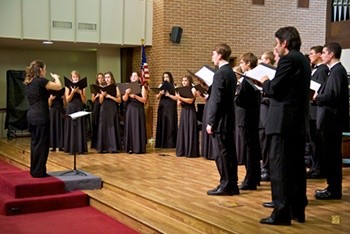 Making Music Together
At The Geneva School we believe that part of being human, part of being creatures made in the image of God, is being musical. We may not all be called to be soloists, but we can certainly all sing.  We may not all be capable of playing concertos, but we can all be in the orchestra.  So it is not uncommon to see students and faculty gathering together for the pleasant task of making music.
We refer to our musical activities as "The Geneva Consortium."  This name reflects our need for one another, musically and otherwise.  Our musical ensembles are small communities where we encourage one another and grow together.  Some of our ensembles are even open to musicians from outside The Geneva School.
If you are interested in joining the String Explorers, the Philharmonia Orchestra, or the Repertory Orchestra, please fill out the Consortium Application Form and turn in to Michael Miller.