Get to Know the Headmaster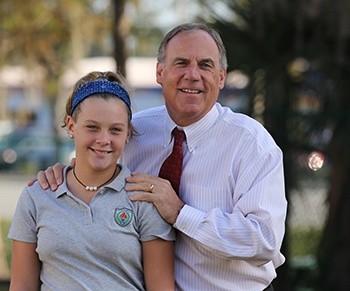 I am sometimes asked what my role as headmaster entails at The Geneva School. While my responses are not exactly my official job description, I respond by saying, "My job is to make every parent jealous that they did not receive the same education that their children are enjoying at Geneva." One reason I can say that is because I am personally jealous of the educational experience of my own granddaughters. Their sense of wonderment and delight is captivating, making my role as headmaster all the more fulfilling.
Another privilege I have is to win the war for talent. If the faculty is the school, and I believe it is, then my highest calling is to secure a legacy faculty who is capable of implementing Geneva's mission and vision through the Christian classical liberal arts. As one of the founding board members and chairman of the board for eight years prior to becoming headmaster in 2003, I am intimately aware of the mentoring role that faculty members perform. Our faculty and staff exhibit a warm collegiality that draws students into the pursuit of wisdom and understanding. Because virtuous scholarship is our goal for each graduate, students must experience this in a realm of grace that encourages their pursuit of educational excellence.
I liken our faculty to the wardrobe in The Lion, the Witch and the Wardrobe by C. S. Lewis. Through them students encounter worlds previously unknown; their moral imaginations are stimulated and Aslan becomes a trusted guide and friend. Horizons are expanded and virtues are cultivated. Students engage The Great Conversation; when they return home again to the dinner table, their parents can only guess where all they were that day and what they encountered. Not so oddly, parents conclude that their children are better suited for this world for having been transported to "worlds unknown" by their faculty.
I see this working at Geneva, and after twenty-six years of leadership at the school I am more enamored of it now than ever before. Perhaps you will catch a glimpse of this as you explore our website and the school itself.