Senior Boot Camp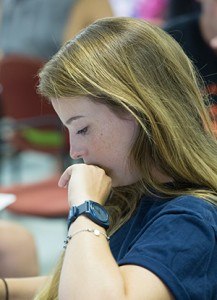 Senior boot camp officially launches the start of the senior year!
Boot Camp 2019: August 12–14, 12:00 pm on Monday through 12:00 pm on Wednesday.
Location: San Pedro Center, 2400 Dike Road, Winter Park, FL 32792.
Cost of Boot Camp: $95 (billed to accounts, due August 1)
Director of College Counseling Scott Thigpen and Director of Student Services Isabel O'Driscoll lead the students in preparing for their senior year. These items include but are not limited to house leadership, dialectic dynamics planning, rhetoric retreat planning, career and personality assessments, and team building. There will also be scheduled time for worship, reading God's word, and prayer.
TIES THAT BIND: During the second day of Senior Boot Camp, Ties That Bind introduce a carefully orchestrated set of physical and mental activities and challenges for the seniors. These activities focus on leadership, trust, communication, problem solving, teamwork, and decision making. They compel the students to work together as a unified team and encourage them to take on new leadership roles. At the end of each activity, the facilitator lead a debrief discussion, focusing on related teamwork topics. Through open discussion, they provide a welcoming and positive forum for students to analyze the activities and relate them to relevant real-life situations.
WHAT TO BRING? This Pinterest board should help you out.
PARENTS: Please submit this medical/waiver form by Monday, August 5.
Sorry. This form is no longer available.