Dialectic Dynamics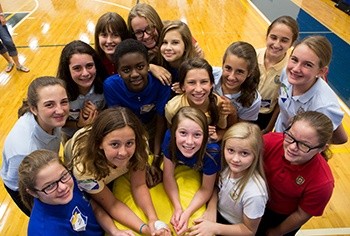 Dialectic Dynamics is an orientation that welcomes the seventh and eighth grade students back to school in a fun and casual way, while accomplishing some important goals. They are given time to connect with old friends and make new ones, meet and interact with the dialectic teachers, receive some important training for RenWeb (Geneva's online academic tracker), build their new dialectic notebooks and planners, decorate their lockers, look over their class schedule, receive their course materials, and learn about opportunities, resources, and expectations. This is accomplished through ice breakers, house activities, workshops on organization and interpersonal relationships, modified classes, eating together and a day off campus working on communication and leadership skills with the wonder staff of Ties That Bind.
Here is what some of the students have said about Dialectic Dynamics:
When we arrived on our first day back, after the long summer break, a delicious breakfast buffet was waiting for us. After a filling meal, we played some games in the gym. Then we were divided into teams and each team choreographed a cheer, decided on a team name, and made a flag.
I liked the games and hanging out with my friends. I had time to decorate my locker. I liked the food and the ice cream party!
Excited chattering. Delighted laughter. Exuberant greetings.
Many of us have been at Geneva for a number of years. During that time, we have constantly looked up to the 'big kids.' Not only did Dialectic Dynamics reduce the anxiety of making it to the 'upper school' and being an example to the younger students, but it directed us on how we should do that.
Dialectic Dynamics is an exciting and informal way of helping the seventh and eighth grade students meet their teachers, get organized, and understand what will be expected of them as upper school students.
Dialectic Team Challenge (Ties that Bind)
On Wednesday, August 15, dialectic students will go by bus to Canterbury Retreat Center in Oviedo for a day challenges, both mental and physical.
The Low Ropes Course is a set of carefully orchestrated physical and mental group activities/challenges that focus on leadership, trust, communication, problem solving, teamwork, cooperation, decision making, motivation, and conflict resolution. They compel the students to work together and overcome challenges, while building unity.
The High Course focuses on the student's emotional and physical insecurities. These elements help the students set and complete personal goals and fosters perseverance, risk taking, and motivation.
At the end of each activity, the facilitators will lead debrief discussions, focusing on teamwork topics relative to each event. Through open discussion, the events will be related to real-life situations that will provide a welcome and positive forum to analyze the activities.
Ties that Bind Waiver Form
Please submit the following waiver form by Wednesday, August 8.