Christian classical education is the answer, but what exactly is the question?
By Dr. Kevin Clark, Academic Dean
It happened two years ago as I gave a talk with this title while visiting an "East Asian" country (let the reader understand). I was there helping Christian school teachers learn more about Christian classical education. On one of the evenings, the church sponsoring my trip asked me to give a public lecture on the classical model of education. This would be easy enough, I thought. I had plenty of material to draw from. An allusion to Plato or Augustine here, a quote from Chesterton or Lewis there, and that would suffice. But there was something I had not anticipated. It came in the form of a last-minute request from the pastor, and it left me reeling.  Be sure to explain, he said, why the children in our church need a Christian classical education.
This was devastating, but not for reasons you might think. Before I explain, however, imagine the following scene unfolding in a classroom.
"Why are we learning this?" asks a young man near the back of the class.
"I am glad to hear you are learning," the teacher replies with the kind of tone that takes new students a few weeks to recognize as facetious.
"I'm being serious," he responds, also with a tone, though one that indicates he gets the irony but knows it is at his expense.
So, he reframes his question: "Why do we need to know this?"
"You don't," answers the teacher, placing herself at eye-level with a student whose paper she is examining.
"What!" he exclaims in surprise.
"I beg your pardon is a more polite way of expressing yourself," she answers, this time smiling.
"Right…I mean, I beg your pardon, but did you say we don't need to know this?"
"Yes, that is precisely what I said."
"We don't need to know this? But I thought we were going to have a—"
"Of course you don't need to know this," she interjects. "But, then again, I don't think that means quite what you seem to think it means."
"What—I mean, I beg your pardon. What do you mean?" He asks, his voice now indicating something like an earnest question.
With only a slight pause, she proffers another question: "how many things are truly necessary?"
"Necessary?" he says, somewhat puzzled. "Oh, right. Need—necessary."
"Latin is beginning to pay off, I see." She moves to examine another student's work.
"Huh? Anyway, I guess a lot of things are necessary. Like—"
"A lot of things?" she interrupts, adding playfully before he can respond to this new question, "I don't think so."
"Why not?" he asks.
"We have it on pretty reliable authority," she replies, "that there is only one thing that is necessary."
There is no verbal response from the student, though from the shape of his slightly-parted lips it is clear that the next "I beg your pardon?" was scrubbed just before takeoff.
The teacher's prize now fully in sight, she continues, "You got off on the wrong foot by asking whether you need to know this. I think what you meant to ask is, Why are we learning this, as in towards what end? Am I correct?"
"Yes…I think so," the student replies, still somewhat unsure as to what just happened.
"Good. This is a question of purpose, of telos," she replies while walking to the front of the classroom. "This is the most important question after all."
"Right…I think," agrees the student. "So, why are we learning this?"
"Nice work!" she exclaims, leaving the student to ponder his question on his own. "Let's see how you do with another proof. Please take a look at the diagram on page 153."  
Now, I must admit that in fifteen years of classroom teaching I've never had an exchange with a student that went this seamlessly (unless you count the imaginary conversations I've had while driving home thinking about what I should have said). I have from time to time, however, helped students get beyond merely forming interrogative sentences in order to ask truly live questions. The point of this fictional narrative is that the student was looking for an answer to a question he had not yet genuinely asked. The teacher understood what we might call the priority of the question, however, and redirected him accordingly. This is precisely what I experienced that night in the church in East Asia.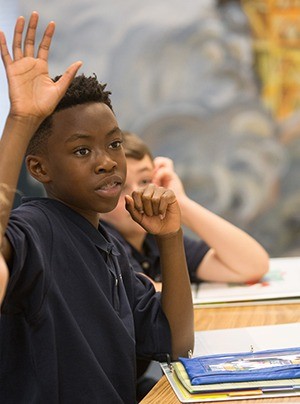 I had, in fact, answered the why question about classical education many times before the pastor asked—but always for parents who were either already partly convinced (or else beyond convincing) or for students trying to lead me (successfully, I'm afraid) off on rabbit trails in order to delay the day's regularly scheduled programming. The problem I experienced as I addressed the church that evening was that all my previous answers began to fly apart into disconnected and unsatisfying fragments in my mind. Something about Latin roots and verbal scores on the SAT drifted past something else about preserving the Western cultural heritage, while the familiar modifier Christian classical took on an unfamiliar form, like the appearance of your bedroom furniture after being woken abruptly in the middle of the night. For a moment I was utterly at a loss of what to say. Why? Because until this moment, I don't believe I had ever truly understood the significance of the question.
You see, Christian schools are illegal in the country I was visiting, and the church that sponsored my trip was unregistered and thus illegal as well. The people I was asked to address were bold. They were missional. They had already concluded that raising children in the nurture and admonition of the Lord in their culture meant a Christian alternative to secular education. So when they asked, "Why Christian classical education?" they had something far different in mind than the familiar questions of college and career preparation or perceived practical relevance I had often encountered. They wanted to know: Will this kind of education give our children the wisdom and discernment they need to live godly and faithful lives? Will it help build the church into a flourishing community that manifests the gifts of New Creation? In short, they were asking whether Christian classical education would help serve the ends of Christian formation and discipleship they understood they are called to as Christian parents.
Thankfully I had an answer for the church that night, an answer that not only stood up to the needs of the audience but one that many of them found compelling and encouraging. (I hope to explore this answer in more detail in subsequent blog posts.) The point of the current blog post is this: While different people use the same words when they ask, "Why Christian classical education?" they may actually be asking profoundly different questions. The question makes all the difference. If by these words the question is actually asking how Christian classical education can provide a value-added means of achieving success according to worldly standards, I fear the answer will be only half-convincing, if not disappointing. If, however, the question is how Christian classical education is valuable for cultivating wisdom and discernment, for equipping children with a vision for serving the common good, for helping to restore the church to a flourishing community of men and women whose lives together manifest the gifts of New Creation in wisdom and beauty and justice, then the answer is not only compelling, it's transformative.