Information for New Families
Welcome to The Geneva School! Each of our lower school and upper school buildings has a clinic with a team of five nurses to serve your children with any health needs during the school day, and to promote a culture of wellness for our students and staff.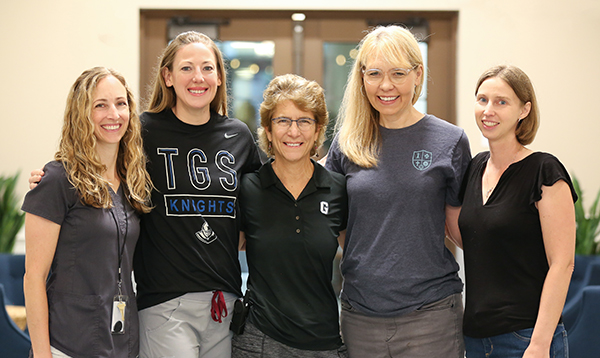 Aly Alwinson, ARNP-BC, manages our lower school clinic, working Monday–Thursday, and is the point of contact for lower school health and wellness needs and concerns.
Kristin Partlow, RN, regularly works on Friday in the lower school clinic.
Sarah Fulginiti, RN, manages our upper school clinic, working every day excpet Wednesday, and is the point of contact for upper school health and wellness needs and concerns.
Sarah Birx, RN, regularly works on Wednesday in the upper school clinic.
Lou Jones, RN, is the point of contact for state mandated student records (physicals, immunizations, and birth certificates) and works flexibly in both clinics, as needed.
Please read carefully the information below that is important for the health and safety of your child(ren) at school, and helps our nurses to care for our students during the school year. Contact the nurse team with questions that you have.
Required Medical Documentation
Please read the information on the Required Medical Documentation page. These documents are required by state law and/or school policy to be on file for each student enrolled at The Geneva School. Please read the explanation under each item to learn what specifically you will need to do to ensure that we have all of the necessary documents.
Please upload forms from the Required Medical Documentation page (or turn in hard copies at lower or upper school reception) by the first week of August.
If your child is transfering from another school, the admission office will send a Request for Records to their previous school, and you will be contacted in September if we have not received all the necessary records. If you are coming from a school in another state, you will need to have your child's immunization records transferred to a Florida Certificate of Immunization form (or obtain a Florida Religious Exemption form).
Medications Administered to Students

Our clinic supplies acetaminophen (Tylenol), ibuprofen (Motrin), diphenhydramine (Benadryl), and calcium carbonate (Tums) that can be given to your child, if needed during the school day, if you have given permission on the student's continuous enrollment form.
Other over-the-counter or prescription medications may be given according to our Medication Policy.
Medical Issues
Should your child have asthma, diabetes, a life-threatening allergy, or other chronic medical condition that could affect his/her daily activities at school, we would like to schedule a meeting with you and your child before or during the first week of school to formulate an Individualized Health Plan. If you are interested in doing this, please contact Sarah Fulginiti (upper school) or Aly Alwinson (lower school) to schedule a meeting before school starts in August.
For those children with an EpiPen prescription or any other emergency medications, a Food Allergy & Anaphylaxis Emergency Care Plan Form must be completed and signed by the parent AND physician during the summer. Two sets of emergency medications are to be supplied by the parent. For lower school, one set of emergency medication is kept in the clinic and another set is kept in the student's classroom. For upper school, one set of emergency medication is kept in the clinic and another set is carried by the student in their backpack.
If your child has asthma and carries an inhaler to be self-administered, state law requires that an Authorization for Asthma Medication Administration at School Form be completed and signed by the parent AND the physician.
We also want to make you aware of the Center for Disease Control (CDC) immunization guides available on the Immunization Information page. They will help you understand the different vaccines available and at what age each vaccine is regularly given.
Thank you for your cooperation and attention to these matters. Please contact one of us if you have any questions. We are not regularly at school during June and July, but are happy to correspond via email or talk on the phone. Again, we look forward to meeting you and your family!
Sincerely,
Lou Jones, R.N.
---
Have a Question? Want to Learn More?
Please use the following form to submit questions to the nursing staff.