Movement in G

IN THE BEGINNING, THE SPIRIT OF GOD MOVES ACROSS A FORMLESS VOID AND CREATES THE HEAVENS AND THE EARTH.
The Son of God preaches that faith as small as a mustard seed can move mountains. A German friar nails Ninety-Five Theses to the door of a castle and initiates the movement toward Protestant Reformation. An English politician and philanthropist leads the movement to abolish the slave trade.
A young Italian sculptor, painter and architect lifts a chisel to sculpt David. A musical prodigy from Austria raises a baton to begin "The Magic Flute." And a young student opens a Plato dialogue to galvanize her lifelong pattern of learning.
Movements vast and small across time, across countries and most often—just across the street—open doors to greatness.
Welcome to our Movement in G—your opportunity to open the door to a new era in which, by God's grace and for His glory, we can together move Geneva towards greatness.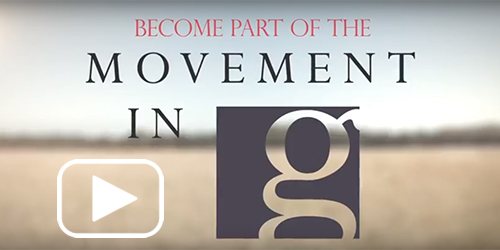 JOIN THE MOVEMENT IN G!
Pledge forms can be picked up at both the main and early childhood campuses, or downloaded from here.