New Upper School Campus
THE GENEVA SCHOOL'S NEW CAMPUS … FALL 2019
The plan is complete. The shovels are digging
The building plans for The Geneva School's new campus are complete, and the land is 100% infrastructure-ready. From a pre-construction standpoint, we have dotted the "i's" and crossed the "t's." We are ready to begin phase 1 construction on Geneva's new 57,000 square-foot academic buildings.
Once the new building is complete, all upper school students, 7th grade to 12th grade, will move to the new campus (1775 Seminola Road Casselberry). This will open up space and parking so that the early childhood campus community, K4-1st grade, will join the rest of our grammar school, 2nd-6th graders, at the current main campus (2025 SR 436 Winter Park). As enrollment grows on both campuses, plans will be underway to expand the new campus for our grammar students.
Two campuses, One mission
Since the founding of The Geneva School in 1993 our faculty, staff, administration, and board members have relentlessly pursued this one mission: "Inspiring students to love beauty, think deeply, and pursue Christ's calling." This will not change. In fact, our teachers are excited about implementing our mission using new spaces in new ways to engage the hearts, minds, and imaginations of their students.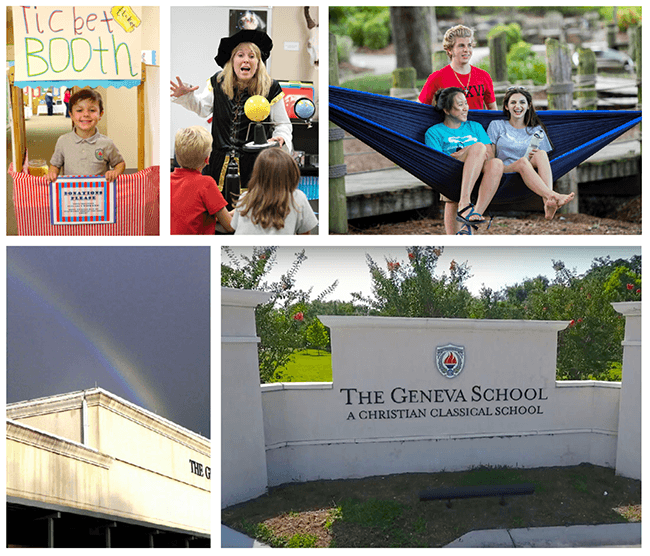 First Floor
In addition to classroom and office spaces, the full design includes a 23,410 sq. ft. gymnasium, locker and weight rooms, a learning-garden, and a collaborative (multi-purpose) industrial space that could be used for drama set design, science experiments, large art projects, and digital photography shoots. Other adjacent spaces include an art lab with a kiln and sound-treated music rooms.
The design supports and enhances Geneva's mission of teaching students how to think well and speak persuasively. A capstone design element includes the daVinci Lab which can be used in numerous ways including group discussion, creative collaboration, student thesis presentations, and moot court.
Second Floor
The second floor will be the primary location for most of the classrooms including three science labs. Notable upstairs spaces include several collaborative and individual study spaces, student services, and conference space.