In Praise of Sports
Dear Geneva Community:
When I talk with prospective parents about Christian classical schooling, I discuss the usual school-related topics such as philosophy of education, course of study, and programs, including athletics. Sometimes, parents have a hard time reconciling the philosophy and course of study (including Latin, grammar, logic, and rhetoric) with the desire for a competitive sports program. I imagine many picture our students in a fashion similar to a famous Monty Python skit featuring Greek and German philosophers competing against one another in a soccer match. If you watched our student athletes compete this fall, then you know better. They are dedicated and intense competitors, win or lose.
When students compete in athletics, they are recreating or creating anew their body and spirit. We call such recreation play and the event a game. These activities require knowledge and training and follow a set of rules. While sports tend to garner tremendous attention, time, and money, they are nevertheless engineered with rules created to determine winners and losers. For most athletes at the K–12 level, the engineered nature of sports includes stakes not much greater than trophies and ribbons. Recognizing that sports are engineered games does not mean they are unimportant.
Activities in athletics and the arts complement our academic program and when combined, serve to further our school's mission to provide "an extraordinary education … that pursues goodness, truth, and beauty in all spheres of life." Athletics provide our students with experiences that the arts and academics cannot. Specifically, they provide our students with adult-like situations that force them to make split-second decisions that often have an impact on the outcome. When compared with the classroom or the art studio, the athletic arena is unique: noisy, intense, exhausting, and unpredictable. The results in a contest are immediate and unambiguous.
For many students, sports are an essential part of their lives. For some, the prospect of playing later in the day is what gets them out the door in the morning. Academically strong schools like TGS develop athletic programs that fit our mission so that we can go with the grain of student interest and passion in order to develop them into astute, well-rounded, humble, selfless, confident, and poised young women and men.
As with anything that is good, athletics require safeguards to ensure they maintain their proper place. The Greek poet Hesiod stated it well when it comes to making sure good things such as athletics remain so: "observe due measure; moderation is best in all things." While I don't propose that we put "All Things in Moderation" above the entrance to our gym or over our athletic fields, I do suggest it can serve as a guiding principle for making sure our student athletes are well-served and excel as both students and athletes.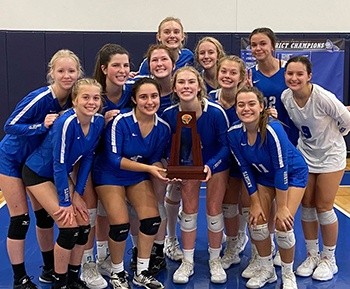 Varsity Volleyball Update
The TGS varsity volleyball program has been a model of consistency the last ten years. Head coach Hollie Benjumea took over the program in 2006 and has led the program to the regional playoffs all fifteen seasons and is currently on a ten year streak of claiming district championships. This is a remarkable feat and was recognized recently by the Orlando Sentinel.
The team won the regional final match against Victory Christian Academy last Saturday, October 31, with a score of 25–11, 29–27, 22–25, 26–24. The team faces St. John Paul II (Tallahassee) in the state semifinal tomorrow (Saturday, November 7). The game will take place at TGS at 2 pm. It will also be livestreamed on the TGS YouTube page. The winner of the match will play next Saturday in the state final in Fort Myers. Click HERE to access the tournament bracket.
Go Knights!
Brad Ryden
Head of School