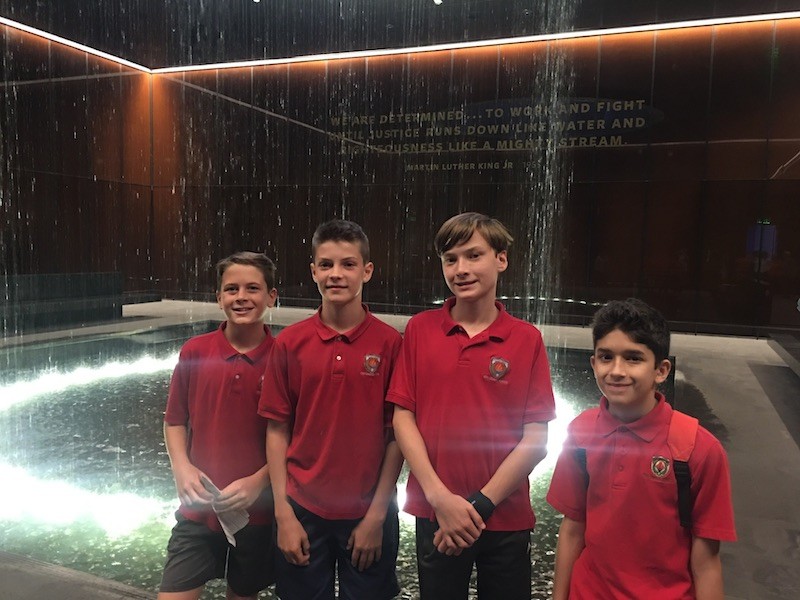 Greeted by the cool morning air, we began our day walking, waiting at crosswalks, catching the Yellow Circulator bus, then walking again to the Supreme Court. Unfortunately because the Court was in session, we were not permitted entrance into the actual courtroom, but we took in the grandeur and history of America's "Temple of Justice" which was erected during the Great Depression and completed in 1935.
Above the Supreme Court building entrance the inscription reads, "Equal Justice Under Law." Our next stop challenged precisely that ideal.  To whom does equal justice under the law apply? At the African American Museum of History and Culture, our students traveled back in time to the 1400's when the Atlantic slave trade began, walked through a Jim Crow era segregated rail car, and even learned about the Central Florida town of Eatonville, the first incorporated African-American city in the United States.
After a picnic lunch, we visited the Ford's Theater to see with our very own eyes the presidential box in which Abraham Lincoln was shot by Confederate sympathizer, John Wilkes Booth.  We heard the story of how that infamous day unfolded and how several days later, the great manhunt for Booth culminated in a shoot out and a barn on fire!
Each chaperone group strolled through Chinatown to choose their dinner fare, whether Indian cuisine, Peruvian food, or good ol' burgers. Back at the hotel, our sixth graders enjoyed a little friendly competition around the game tables before heading off to bed.
Another day is done for our sixth grade Geneva Knights in Washington DC. A day full of history, curiosity, exploring, pondering, and waiting at crosswalks…
by Michelle Seneff, parent blogger