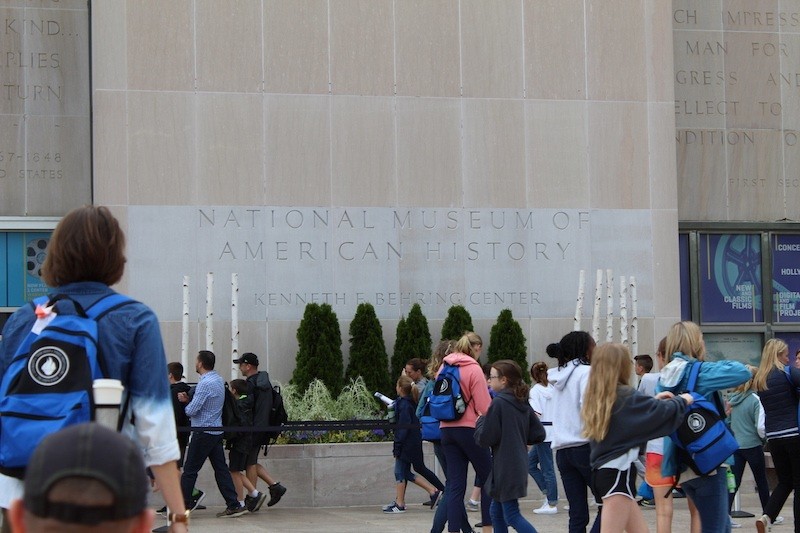 Seven miles of walking took the sixth graders to the Bureau of Engraving and Printing, the American History Museum, the Capitol Building, and the Library of Congress today.
Did you know that Woodrow Wilson's portrait adorns the $100,000 bill printed in 1934? At the Bureau of Engraving and Printing, students measured their height compared to that of a stack of $100 bills. Some totaled $1.7 million tall and others a meager $1.3 million. A proper determination of net worth, right?
The actual Star Spangled Banner that inspired Frances Scott Key lies reverently displayed in a dimly lit room at the American History Museum. Also in the museum, many of our sixth grade young ladies delighted in seeing the dresses each First Lady wore on Inauguration Day and learning how the First Lady contributes the work of the White House. There were even several students who were spotted giving televised presidential addresses behind that infamous podium!
At the Library of Congress we saw one of only three perfect copies of the Gutenberg Bible printed entirely on vellum in the 15th century. Also on display is the complete library of Thomas Jefferson with books in Latin, French, Greek, Italian, and English. Word on the street is that some certain sixth grade teachers may have scored Library of Congress library cards!
At the Capitol building, sixth grade got into a nasty brawl! Punches thrown, teeth flying, blood spurting! Oh, wait. Sixth grade only did a mild reenactment of the brawl which actually occurred in 1858 amongst members of the House of Representatives over the issue of slavery in the very room where we stood, now the National Statuary Hall. Also  in national statuary hall, we admired the courage and strength of Rosa Parks who is represented seated as on a Montgomery bus.
by Michelle Seneff, parent blogger