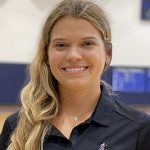 Julia Ingler started playing basketball at the age of five in Coral Springs, Florida. Upon moving to St. Cloud, Florida, she attended a basketball camp and was asked to join the Central Florida Blazers' AAU Team. At Narcoossee Middle School, Julia played multiple sports including track, soccer, and basketball (where she was the leading scorer and MVP in consecutive seasons). Entering Harmony High School, her passion was basketball, but she also excelled at flag football. During her senior year of high school, thanks to amazing teammates and great teamwork, Julia's flag football and basketball teams both finished second place in the Florida High School Athletic Association (FHSAA) State Championship and Julia received the MVP award. Julia received several other athletic awards throughout high school, including two-time All-District Basketball Player of the Year, Osceola County Brighthouse Basketball Player of the Year, and Osceola Gazette Basketball Co-Player of the Year.
Julia received multiple scholarship offers to play college basketball and ultimately decided to attend and play for Rollins College in Winter Park. The atmosphere and small class sizes were the best fit academically, and it also had a top-notch basketball program. While at college, Julia developed strong leadership skills as a starting guard and captain. The team made great strides and was the NCAA South Region All-Tournament Team in 2017. Throughout college, Julia continued to rack up the awards and achievements, including All Newcomer Team as a freshman and NCAA Sunshine State Conference Honor Roll, while also scoring over 1,200 points throughout her college career (which was limited by a broken foot during her senior season). Julia is also proud to hold the record for the most career three-pointers (224) in Rollins' basketball history.
Each summer while at Rollins, Julia enjoyed being fully engaged with multiple basketball camps where she made great lifelong friends. After graduating with a degree in communications and a minor in business, Julia accepted a contract to play professional basketball in Ireland while also pursuing her master's degree in international business management at Griffith College. Being in Dublin from August 2018–May 2019 was a wonderful international experience that sparked Julia's vision and drive to become a coach. Shortly after returning to Florida, Julia realized that coaching and helping others was her passion and calling, just like the great coaches that had helped her succeed in the sport and imparted valuable life lessons through the game. Basketball and other team sports teach you to learn from and listen to others and also require you to be accountable to others.
Julia is beyond excited to share her passion for basketball and athletics with the students at Geneva. She firmly believes that dedication, hard work, and having an excitement for a sport can take you to some amazing places!