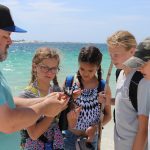 We were up early on Day 2, thanks to the Central Time Zone! After breakfast the girls headed to the beach at a State Park. Mr. Clark led us on a hike through the park. We saw the usual suspects of Florida wildlife here—gators, cranes, pelicans, turtles… but then it got interesting! Mr. Clark turned over a rotted log and discovered a broad-headed skink! Before we knew it he had caught that skink with his bare hands and was showing it to us all. What is a skink you might wonder? Its not a typo for skunk. A skink is a reptile in the lizard family. This one was about 8 inches long and 1 inch wide. See picture below! This is rare find in these parts and we were excited to see it!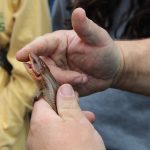 We went for a long walk around the peninsula beach and enjoyed the beautiful emerald water and white sand of this region where sea cucumbers and sand crabs abound. And at the end of our walk, it was finally time to swim!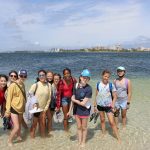 On our way home we stopped for an extra special surprise treat—Ice Cream, curtesy of a generous, anonymous donor. Thank you! Everyone thoroughly enjoyed this delicious snack after a long day on the beach!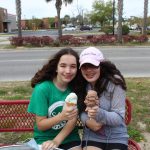 While the girls strolled along the beach, the boys went on a 7 mile hike. Here is how the boys described the hike: Long. Hot. Your legs are sore. Painful. A bunch of steep hills. Steep. Hot. Exhausting. I'd do it again.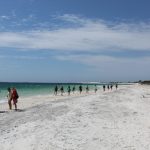 Mrs. O'Driscoll led our evening discussion, continuing our theme of change. Some change we can control, and some we cannot. We are image-bearers of God, with gifts to share, but we are imperfect. God loves you in the midst of change—even on your worst day. He knows all your thoughts. You are not the same person today that you were last year, and you are not the same person you will be next year.
We finished off Day 2 with a game of "Murder" (Like "Wink" or "Mafia") and popcorn…. And a good time was had by all.
by Amy Heidmann, parent blogger