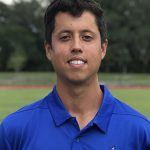 Eddie Jimenez grew up in Miami, Florida, playing for Kendall Soccer Club where he won three state Florida Youth Soccer Association (FYSA) championships and the world-renowned youth international tournament The Dallas Cup in 2006. He was part of the Florida Olympic Development Program (ODP) from age twelve to fifteen, representing the state of Florida in the ODP regional and national tournaments. At fifteen, Eddie began his international career when he was invited to represent his country of Puerto Rico at the U-17 World Cup qualifiers held in Trinidad and Tobago. Upon graduation from high school, he was offered a soccer scholarship to Villanova University just outside of Philadelphia, Pennsylvania. After one year at Villanova, Eddie decided he wanted to be closer to home and transferred to the University of Central Florida where he became a starter in the midfield for the Knights. As an integral part of the UCF squad, he was able to achieve great success, reaching two consecutive second round NCAA tournament appearances in 2010 and 2011.
After graduating from UCF with a degree in interpersonal communications, Eddie was offered a contract to begin his professional soccer career with the Ft. Lauderdale Strikers of the North American Soccer League. After about six months into his career, he was called up to the full senior Puerto Rican national team to compete in the Concacaf Gold Cup qualifiers.
After his playing career, Eddie came back to Orlando and began his coaching career at Florida Kraze Krush. He has a strong passion for developing players of all ages and really understands the work it takes to become an elite level soccer player. His philosophy on player development is simple: players who want to improve have to understand that only through hard work and dedication can one be successful in this sport. As a coach, he sees it is his job to create a performance environment where players feel challenged and are pushed to improve daily. Eddie is a strong advocate of developing a strong fundamental base of personal technique and skill so that as players mature and the game becomes faster, they are able to better adapt to any game situation thrown their way.
Eddie is excited to be a part of The Geneva School coaching team, to continue to mature as a coach, and to have the opportunity to work for a prestigious institution that shares his moral and religious values and virtues.