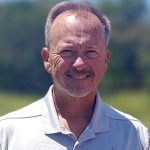 Coach Cash, as a lot of kids call him, joins Geneva's coaching staff as the varsity track and field coach. He started his career in coaching while still in high school, coaching baseball and football, and adopted the role of pole vault coach for his track team when they didn't have a coach. His mentor and coach, Ron Evans, recruited him to coach a few years later, and together they won ten state championships. Since that time, Coach Cashman has coached over 70 state champions, 11 state record holders, 7 national champions, and well over 100 All American athletes. Prior to coming to TGS, he spent five years at Lake Mary High School where his Rams set 30 school records, won 3 straight conference and district titles, and were runners up twice at regionals.
Coach Cashman is a Level I and II certified coach through USA Track and Field. He also went back to school, earning a BS in Exercise Physiology and Sport Science at UCF. He studied strength and conditioning under Frank Costello while coaching at the University of Maryland, as well as biomechanics under Roger Eckard, formerly of Arkansas State University.
A couple of key phrases that set Coach Cashman apart as a coach:
▪ "I love you enough to tell you the truth … even if it hurts a little."
▪ "Are you better today than you were yesterday, and did you do enough to be better tomorrow?"
▪ "Let the height of your desire and the depth of your resolve be the measure of your success."
Coach Cashman, along with his wife, Lisa, and stepson, Griffin, live in Casselberry and attend St. Luke's Lutheran Church in Oviedo.
Find out more about Geneva's Track and Field program HERE.