By Grace Herzog (11)
"There are far, far better things ahead than any we leave behind." – C.S. Lewis
We can probably all agree that changing schools in eleventh grade isn't typically a wise move.  But then again, we all know Geneva is not a typical school. Here we are, only a few weeks into the year, and thanks to you I couldn't feel more like a Genevian. Seeing how each of you so beautifully pursues Christ's call to welcome the stranger reveals God's goodness throughout this school – the "far, far better things" that I had so hoped for. You, my classmates, have shown me I am valuable both in your eyes and in God's; our teachers have made me feel comfortable yet challenged in the classroom; and our administrators have helped me to feel encouraged about the present as well as the future. I know this might sound a little idealistic to some of you long-timers, but your school – well, now it's our school– helps me see a world that is richer, more beautiful, and even more Christ-filled than before. So, thank you for all the words and all the ways of welcome. You truly are salt and light.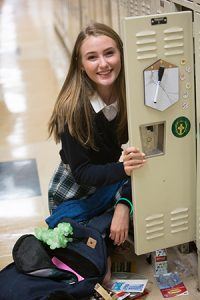 My Five Faves:
Favorite New Thing:  Definitely lockers. Never have I ever had a locker. They're life-changing.

Favorite House:  Iona, of course. *shows off lovely new house necklace*

Favorite Class: Currently, we have a seven-way tie for first, no joke.

Favorite Geneva Tradition: Rhetoric retreat is the greatest. Also, how much everyone genuinely smiles at each other throughout the day.

Favorite Future Thing: Lifelong friendships with wonderful people (+the shiny new campus next year).
(Originally appeared in our student-run newspaper, The Geneva Gazette.)