Today the boys went to the beach and the girls went on the 7 mile hike….we did it!
Kudos to Mr. Frazer who did the 7 mile hike TWICE.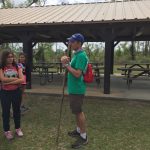 The boys found a snake and a turtle at the beach, played football in the water, and had a great day all around.
The girls powered their way through the hike! After the half way point it began to rain. But wow did that rain feel good!
We continued our evening chapel theme on change and growth. As we each had a handful of clay we talked about the ways God shapes and molds us to become like Christ.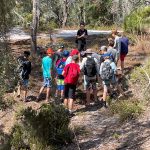 The boys went on a silent hike in the dark after that and the girls had a little pajama party.
Can't believe we only have one more day in North Florida. Caverns and canoes up next!
by Amy Heidmann, parent blogger