By TGS track and field team members Ella Raesly ('24), Charles White ('23), and Josh McKay ('22)
Tony Ross and Gary Evans used our Geneva track and field facilities to train a number of elite Olympic athletes. Three of our varsity track and field team had the chance to interview a couple of them this summer.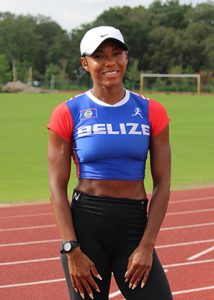 This past summer, we had the incredible privilege of meeting a couple of professional track athletes and interviewing them. The first athlete we met was Jessica Beard. Jessica specializes in the 400-meter dash (one lap) and had a phenomenal track career at Texas A&M University, winning two NCAA titles, a pair of relay golds, and the Bowerman Award (top collegiate track athlete). We also interviewed Samantha Dirks, who represented Belize, where her mom is from, at the Olympics in the 400-meter dash. When we first met these two athletes, we already had a basic assumption that they had been training for track since youth, or at least the beginning of middle school; however, when we asked the two of them when they began, Jessica told us that she did not start until her freshman year of high school, and Samantha did not begin running until twelfth grade! Both played basketball when they were younger, and Jessica only began track because she was told that it would help her with basketball. So what does it take to become a successful athlete, even after starting late? Surprisingly, both athletes hit the same three categories.
The first part of a successful track career is work: if you don't grind day in and day out, you can kiss your dreams goodbye. Both athletes started late, but by putting in the time and effort, they've risen to the top. The work is not always fun, though: after a workout, Jessica will sometimes say, "Coach, you are crazy," but she doesn't argue because she's seen the results of difficult training. Jessica told us, "I think we make it look easy, 'cause all people see is the end result, you know? They see you when you're out there at a conference, or when you're at a meet, but they don't see all the hard work that you do behind the scenes, and whether it's injuries that you're battling and you have to overcome, or whatever the case may be, people only see the end result."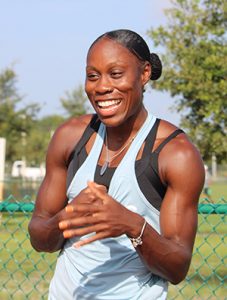 The second important discipline for a professional athlete is diet. Samantha Dirks is a pescatarian (no, that is not a denomination), which means that she does not eat meat but does eat fish. While most of us probably love bacon too much to give up meat, Samantha understands that discipline, no matter how harsh, is necessary to hit her goals. "In terms of my diet as a whole," Samantha told us, "I'm very conscious of what I put in my body, so I eat out as little as possible, and if I do, it's something that I know will be fuel for my body. So that's my number one thing: focus on fueling your body and fueling for whatever sport you're going through."
The last part of becoming successful is motivation. When it comes to motivating themselves, neither Jessica nor Samantha lacks enthusiasm. For Jessica, it is important to continue to have fun, whether or not a race or a practice goes well; she mentioned multiple times that she is very competitive, but she knows that she can't let that get in the way of enjoying a sport that she loves. Samantha finds her drive in her underdog story, having started track much later than most anyone she races. Both were also motivated by their friends, family, role models, and even country. Jessica Beard and Samantha Dirks prove that you don't have to be an immediate prodigy to excel in your field. Just stick with it, and who knows? Maybe you will represent the United States in a future Olympics.