On Thursday, March 3, 2022, two Geneva seniors—Anna Mages and Laura McKnight—were invited to speak on behalf of Geneva's Biblical Justice Club at the Victory Cup Initiative, which is an annual event that provides ten nonprofit organizations in Central Florida with the opportunity to represent and promote the unique ways they are changing lives in our area, making a difference for individuals and communities who are underserved or in need of support. At the end of the nonprofits' presentations, a top award is given to one of the organizations based on a vote from the attendees; however, each nonprofit leaves with an award regardless of their standing after the vote. Along with a financial benefit, each nonprofit has the opportunity to engage with community leaders and bring awareness to a diverse array of organizations.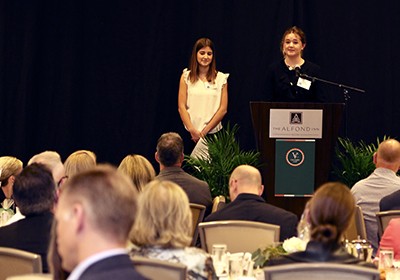 Through a new partnership called the Victory Cup Youth Initiative, Anna and Laura were able to hear from the leaders of ten nonprofits about the work they are doing, and they also had the chance to share with this room full of local businessmen and businesswomen about the mission and goals of the Biblical Justice Club at Geneva. This reciprocal participation, sharing and learning about what is going on in our community and what is going on at The Geneva School, set up an important foundation for future partnerships and achievements. This experience expanded on the girls' involvement with community service, broadening the scope from SALT day and fulfilling obligations for graduation to the everyday lives of folks who make it their daily work to meet the extraordinary needs of their (and our) neighbors.
After this special experience, the Biblical Justice Club was able to bring even more light to these nonprofits that operate in Central Florida. At an upper school assembly on March 30 as part of the Victory Cup Youth Initiative, ten of the members of the club represented the same nonprofits from the Victory Cup Initiative for the chance to reward an extra $2,500 from a private donor to the organization receiving the most votes from students, faculty, and staff. Each club member did a wonderful job speaking for his or her nonprofit, and when the votes were tallied, the Down Syndrome Association of Central Florida received the prize.
This exposure to the important work of these organizations and the extensive and varied needs in Central Florida and beyond will hopefully be a stepping stone that leads to awareness and action for Geneva students. We desire for these young people to know that God loves and cares for their neighbors and that there are many ways to get involved to help make others' lives better. A partnership with the Victory Cup Youth Initiative ensures ongoing growth and enrichment in this area for TGS students.
Mandy Turnbull, Geneva English teacher and faculty sponsor of the Biblical Justice Club, shared some thoughts at the beginning of the assembly about justice and why we are drawn to it. We long for good to triumph over evil—we love superhero movies because the good guys defeat the villains, and we know that the good should win. But she went on to point out that biblical justice goes beyond this desire to see good triumph: it exhorts us to participate in justice, "to do justice, and to love kindness, and to walk humbly with [our] God" (Mic. 6:8). We are called to enter into what God is doing in the world and in people's lives as he redeems and restores until one day when all will be made new (Rev. 21). This is one of the greatest expressions of good triumphing over evil, when we are engaging, empowering, and encouraging those in our community (or even around the world) for the sake of God's kingdom and his glory.
Here are the organizations and the students who represented them at the assembly:
Aeras Foundation | Charles White '23
AMI Kids | Catherine Wilhite '23
Coalition for the Homeless of Central Florida | Addie Bowman '23
Down Syndrome Association of Central Florida | Anna Mages '22
Eight Cents in a Jar | Charley Turnbull '23
Harbor House of Central Florida | Laura McKnight '22
One Purse | Ella Hunter '22
Ronald McDonald House Charities Central Florida | Mattie Shepherd '25
Steinway Society of Central Florida | Sarah Barnhart '22
The Mustard Seed of Central Florida | Olivia Kyle '23